Renhe Deep Groove Ball Bearing Specification
The 6208-2RS and 6208-ZZ are a 40mm ball bearing found in many applications. 6208-2RS ball bearings have two contact rubber seals located on each side of the ball bearing. 6208-ZZ ball bearings have two non-contact metal shields located on each side of the ball bearing. If your application requires a 6208 ball bearing with only one seal or shield, you can get this ball bearing and remove one of the shields or seals. This 40 mm inch ball bearing is high quality and will meet the requirements of an electric motor if needed.

The following part numbers can be found on this bearing
6208-2rs, 6208 2rs, 6208 rs, 6208rs, 6208-zz, 6208 zz, 6208zz, 6208 z

6208 Bearing Performance Details
Dynamic load capacity: 32,500 N
Static load capacity: 19000 N
Tolerance class: P6, P5

6208 2RS/ZZ/OPEN Bearing Dimensions
Bore diameter: 40 mm
Outer diameter: 80 mm
Width: 18 mm

RUWH 6208 2RS Bearing Features

Hot Sale
Suitable For Precision
Low Noise
Stable Quality
High Speed
Water Proof
For Transmission Parts
Efficient Operation
Long-Lasting Silence
Electric Motor Quality
High Temperature Resistance
Uniform Hardness
Wear Resistance
Corronsion-Resistant
Long-Term Performance
Tube Packing
Single Box Packing
Long Life

RUWH 6208 2RS Bearing Advantage

Emq Quality
100% Fully Auto-Inspection
Devliery In 48hours
11 Million Sets Per Month
All Raw Materials Are Purchased And Controlled By Ruwh
4 Heat Treatment Lines
Automatic Production Line
Stable Raw Material Supplier
5s Management
Iatf16949 Certificate
Production And Inspection In Strict Accordance With The Process
Professional After-Sales
Sufficient Stock
Warranty
Free Replacement Within 1 Year
Reply Within 48hours If There Is Problem
The Motor Bearing Will Run For 30,000hours
Maintenance Free Solutions

RUWH 6208 2RS Bearing Application

For Automotive
For Household Appliances
For Pumps
For Gearboxes
For Electric Motors & Generators
For Electric Power Tools
For Office Equipments
For Heavy Vehicles
For Motorcycles
For Diy & Garden Tools
For Conveyors
For Lifts
For Sports & Exercise
For Machineries
Deep groove ball 6208 bearing production flow chart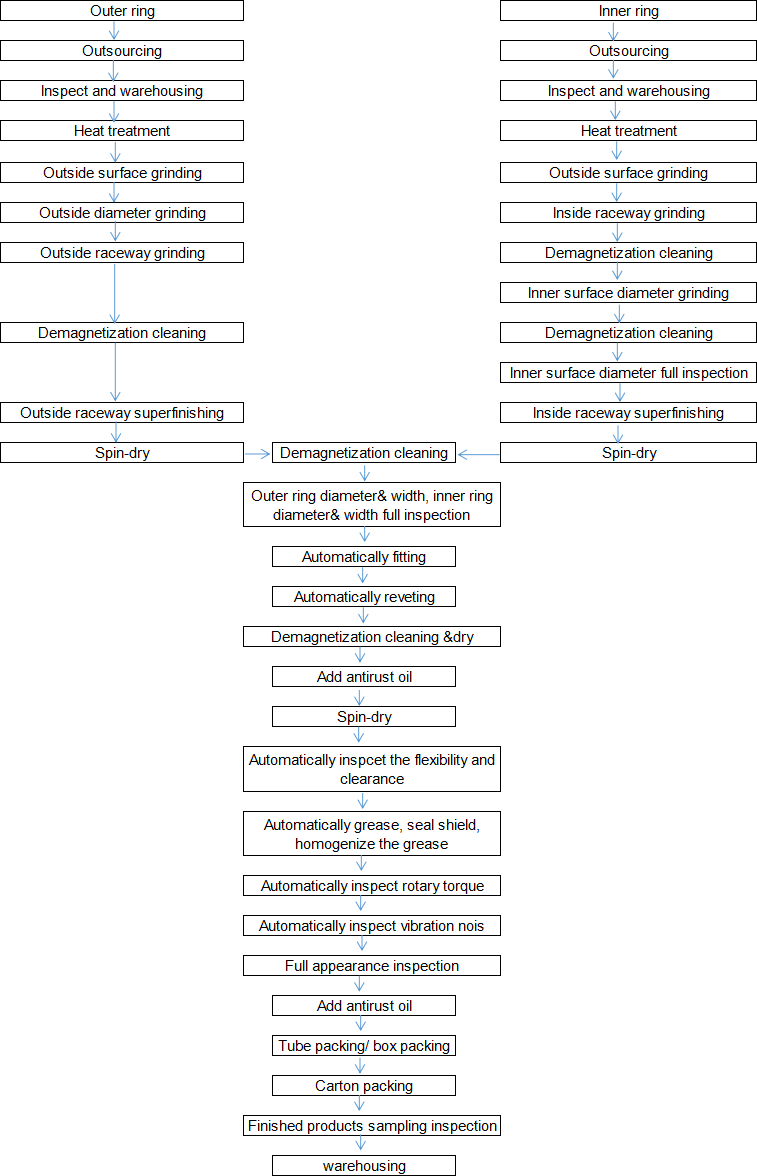 Ordering Instructions for Deep Groove Ball 6208 Bearings
| | |
| --- | --- |
| Certification: | ITAF16949 |
| Description: | deep groove ball bearing |
| MOQ: | 3000pcs |
| Price: | Negotiate |
| Packing: | Tube packing or single color box/carton/pallet |
| Delivery Time: | 48hours after receipt payment |
| Payment Terms: | L/C,T/T |
| Capacity: | 13 million per month |
| Cage: | SPCC |
| Grease qty: | 30% as usual |
| Long life: | Reduce replacement frequency and maintenance costs |
| Noise Grades | Z3,Z4 |
| Vibration Grades | V3,V4 |
| Precision | P6(ABEC-3),P5(ABEC-5) |
| Application: | Automotive,motors, pumps,household appliances, internal combustion engines, transport vehicles,gearboxes.transmission, instrumentation, roller skates,electric motors,electric Power Tools,DIY & Garden tools,Conveyors,lifts |
| Features: | simple configuration,high speed,less cefficient of friction,less vibration and noise |
Ningbo Renhe Machinery Bearing Co., LTd is a China 6208 bearing manufacturer, please save our email(pauline@ruwhbearing.com) or send us an inquiry!